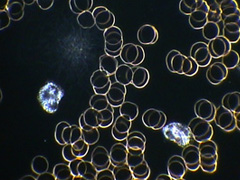 2 Days Intensive - 3 Days Recommended
**Not Available Online**
In Live Blood-Cell Analysis a high-powered microscope is used to analyze a drop of blood as a diagnostic tool. In this test a drop of blood is placed on a glass slide, put under a dark field microscope, then projected on a video monitor to be examined. Blood is examined for micro-organisms, fungus, yeast, toxicities, indications of allergies, vitamin and minerals deficiencies, immune system, and specific organ function.
MUST BE TAUGHT AT DEBORAH'S OFFICE. THIS IS IMPORTANT TO LEARN HOW TO SAFELY COMMUNICATE, MAKE RECOMMENDATIONS BASED ON WHAT IS SEEN IN THE BLOOD, HOW TO WORK WITH THE MICROSCOPE AND HOW TO PROPERLY/SAFELY TAKE SAMPLES
Deborah will teach client-friendly terminology using simplified state-of-the-art technology and how to make this business a success. This module can be taught in an intensive 2 day program, but a complete 3 day time period would supply you with more information to provide the best assistance to your clients. And most of all, it is one-on-one training program that will be geared to suit your timeframe and knowledge absorption! This is not something you should learn on-line or in a group (with minimal microscope time). You need to learn how to interact with clients (so you do not get yourself in trouble) and keep your clients engaged and excited about what you are advising them. You need to be comfortable with the operation of the microscope while learning how to properly and safely take samples. You will learn powerful guidance about nutrition, vitamins, minerals, cleanses and exercises to suggest to your clients in order to help them change their blood/overall health and vitality.
Manuals will be provided and you will be certified upon approved learning of the material.